Bericht van een straatgenoot in Mozambique
Bert Schreuder, straatgenoot en een van onze correspondenten, evalueert het jaar vanuit Maputo, hoofdstad van Mozambique, waar hij sinds 2005 voornamelijk vertoeft.
Maputo, December 2008
My dear friends in Maurits- en Dillenburgstraat,
And another year is about to end. I will probably repeat my self by saying that it seems that each year is shorter than the previous one. For 2008 this was indeed the case, even though it had 366 days this time. This year we completed our third consecutive year in Mozambique, the country where we returned since summer 2005. During the year we were regularly questioned how long we would stay and we systematically answered, as long as we feel happy here. From this you may conclude that we still do feel happy here in Maputo, where we spent altogether almost 14 years of our life.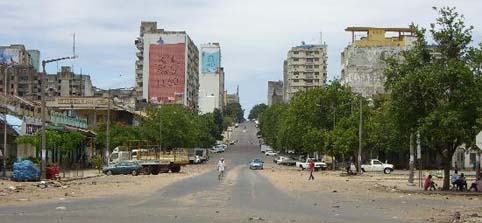 Maputo indeed still breathes the atmosphere of a small town, with a simple life and where little is happening, but where people know each other. Here you can't go anonymously. In our limited inner circles there is no escape. We meet each other in meetings; see each other in the same restaurants, hindering each other in the traffic, crossing at the border to South Africa, at parties in the weekends and on Saturday mornings in the Woolworth Food. On top of it we see each other regularly on TV and in the newspapers. We know exactly when somebody is on leave by the out of office messages.
Maputo as city is a pleasant place to live, but how high does it for example rank on the Gross National Happiness ladder, as promoted by the king of Bhutan? Let's have closer look at it! The social and political peace enjoyed by the people of Bhutan would be a cause of good governance.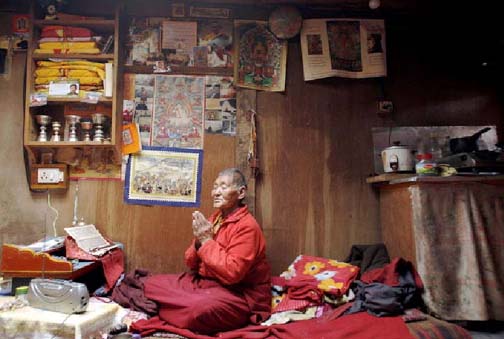 Happy munk in Bhutan
This unique development approach is focusing on improving the quality of life, rather than increasing lucrative business. Bhutan has an advanced environmental protection system in place, puts its priority not on Gross National Product (GNP) but on Gross National Happiness (GNH). As a contrast, to China, Bhutan's pace of development might not be that impressive. However, in terms of raising and maintaining the quality of life of the general masses Bhutan has rendered inestimable service to its people.
The question raises then how does Maputo (or Mozambique in general) rank on the Gross National Happiness scale? First of all the GNH is not amongst the standard list of indicators, provided by the National Statistics of Mozambique. Gross National Product is one of the major reasons why Mozambique continues to receive the international support. Mozambique is in economic terms still booming! It will to a great extent escape the major effects of the global economic crisis, since unemployment is the default and less than 15% of its adult population is employed.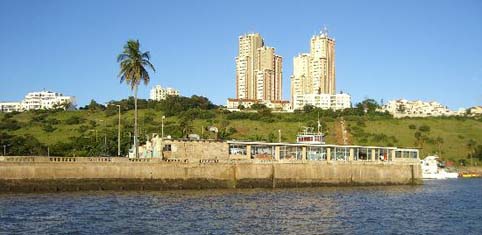 Maputo; view from the sea

But environmental protection systems are not in place here. On the contrary, the country does next to nothing to protect its two most valuable assets, its indigenous forest and the un-spoilt beaches. The Government allows the uncontrolled cutting of thousands of trees that are often more than hundred years of age by predominantly Chinese companies. Officially each district should in return benefit from this lucrative business, but in practice the money disappears in unknown pockets.
Mozambique's second asset that potentially could make its population happy, the beaches, is increasingly taken over by South Africans, who start their tourist business. Mozambique is a popular destination for predominantly the white population of South Africa. They cross the border with their huge 4WDs, loaded with the quads. These popular 4 wheel motorbikes off road are spoiling the vulnerable vegetation of the dunes along the 2500 km coast and the Mozambican police do not do anything about it.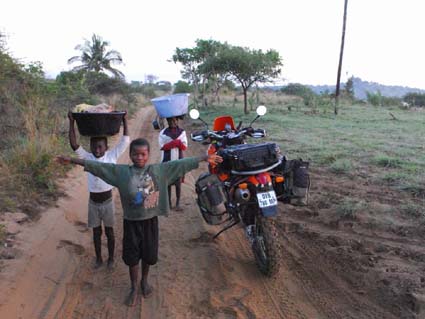 What also makes many Mozambicans less happy is the wide spread corruption of the government system, the rapid spread of HIV/AIDS, the many road accidents, a high level of domestic violence and there are many other things why Mozambique still scores rather low on the GNH scale. Nevertheless, they keep smiling and have fun, in spite of all bitterness.
Regarding ourselves - How happy were we this year? We started it by flying mid January to the Netherlands (Utrecht Oost) to welcome our daughter Eva, who returned from a 5 month exchange with the University of London, Canada, Ontario. I refer to last year's letter for the details, but we were very happy to see her again. A few days later we organized in Utrecht for Mieke a milestone birthday party and enjoyed the presence of many friends and family. I couple of days later I had to travel to Denmark for an introduction course for my new job as senior advisor for the Ministry of Health in Mozambique. It is the kind of course where you learn how to be a trusted advisor, to get to know Danida, to learn about the country you are going to, how to deal with other cultures and how to take care of your own health. I initially thought it would have been a waste of time, but most of it turned out to be interesting, particularly my escapes in the weekend when Mieke came over and when we visited the beautiful Louisiana Museum of Modern Art.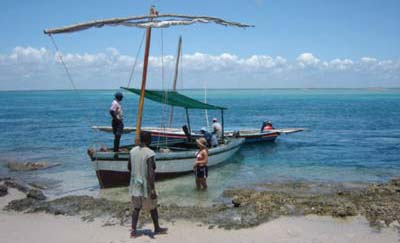 Early February we returned to Mozambique. I started my advisory work in the Ministry of Health. In the nineteen-nineties I had already been working there during 4 years as Chief Technical Advisor, but under different circumstances. At that time I had control over a budget of 8 million USD and that opens doors. The only product I can sell now is my advise, for which, I discovered, is apparently far less demand. Nevertheless I find my work fascinating. Together with my counterpart I'm making an institutional analysis of all different Departments of the Ministry. It gives me a profound insight in how "Mr. Tsunami" is running the Ministry of Health, By profession he is a surgeon and I recognize that. As if he is standing in the operation theatre, he demands from his staff to be constantly there to timely deliver at his command the knife, stitch or coagulation without delay and none of them is supposed to be creative.
My dear aunt, tante Ge, passed away by the end of May. This was reason for me to go to the Netherlands to accompany my father to the funeral. The presence of so many friends and family was heart warming. This is how she had wanted it to be.



One month later I went already for the third time this year up and down again to the Netherlands for our annual summer leave. At arrival we were invited to a party, specially organized for us (!) by our neighbors. A few days later Mieke, Eva and I escaped for a one week organized trip to Sicily. It was already for many years on top of the list of the places on earth we wanted to visit. We stayed in a Agro-Turismo and enjoyed for one week every evening the most delicious traditional rural anti-pasti, climbed the Etna and had at departure in the darkness of night from the airport, the most beautiful intimate view on how mother Earth, just like all of us, empties its bowel.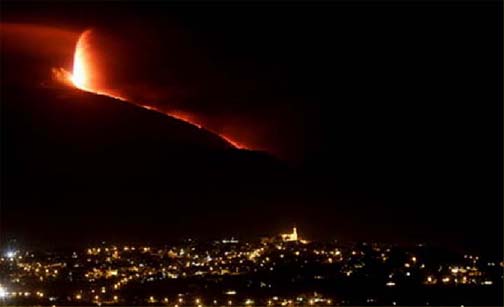 Etna, Sicily

Just like ourselves it smells of sulfur dioxide, is much warmer though, and instead of producing a neatly formed daily sausage, it comes out as a constant choleric diarrhea!! Your gentle smile now while reading it, makes me very happy!

Back in Maputo in August we got back to normal. We organized our regular Flemish – Dutch monthly eating-club and all kind of other social and cultural events in the village. A good friend of us, Henny Matos opened a new art gallery at the Eiffel designed railway station. Since its opening I made promotion as Chief Drill Master, having the honorable task to drill the holes for the plugs of the screws for hanging the paintings. If I don't have to drill, I continue to run at an average of 3-4 times a week my trail along the up and down of the seashore (marginal) In June a half-marathon in the proud time of 1h 48minutes and in addition to that - for the second time in my life I unexpectedly received a price (USD 20) in a veteran competition! I can't escape the natural decay, but being able to control it to a certain extent makes me happy.
We also welcomed visitors this year. By the end of October we welcomed Eva and her boy friend Jankees. They drove with a rental car from Johannesburg to Nelspruit, where we met. The next day we drove through the Kruger Park. Never in our whole life have we seen so many animals in one day. Within two hours we saw the complete big five (Lion, Rhino, Elephant, Buffalo, Leopard) and lots and lots of Zebra's, Hippopotamus, Giraffes, Fish eagles, Warthogs, Baboons etc. etc. That we saw that many was because of the drought that forced our four footers to stay next to pools and rivers, such as the lower Sabie. And then we saw a white elephant, in this case a baby albino elephant. Of course we know white elephants from our involvement in development cooperation, but we had never seen a living one so far.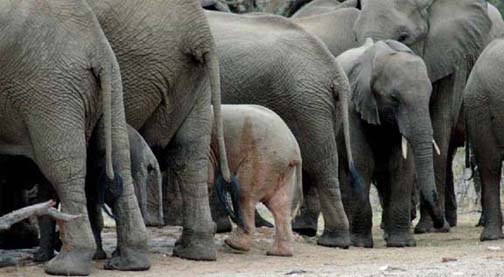 Mieke spent this year working mainly for UNAIDS and for the Global Fund for HIV/AIDS, Malaria and Tuberculosis. It was fun to see that she suddenly met all my colleagues from the Health Partner Group and HIV/AIDS forum. In addition to that she also spent quite some time in her workshop. She had this year again several exhibitions both in Mozambique, South Africa and The Netherlands. Last week, the crew of the bronze foundry in White River (South Africa) came to Maputo to cast three large pieces. Normally we bring the originals in clay or wax in the back of our car, but these were too big to drive them safely all the way into South Africa. They will be on show next year at the yearly Interart Exhibition in Heeswijk Dinter. You can find Mieke's artwork at www.miekeoldenburg.com
And last but not least – Eva. She is pretty much enjoying her study in Groningen and does very well. She is still active in organizing all kind of things. This year she succeeded to become the Program coordinator of TEIMUN 2009 - the European International Model United Nations. On www.teimun.org you find all the details.
Friends, at the end of this letter I almost forgot to mention that we welcomed a whole lots of other guests this year– particularly to mention in more or less alphabetical order: Adri van den Dries, Willem Heemskerk, Marianne +, Enrique + Thomas de Mul, the Rheebergen family, Huub and Heleen Savenije, Mees and Lisa. Piet Jan, we missed you this year!
Making up the balance on our Personal Happiness scale, it was quite OK for this year. Forgot to mention that the most hilarious website I've seen this year was that of a presentation by Hans Rosling who, "with the drama and urgency of a sportscaster, debunks in 20 minutes myths about the so-called developing world." Have fun!
Finally we all wish you a very happy Christmas and a prosperous 2009, during which we hope to see you again and again and again.
Cheers,
Bert